All titles are available from Amazon
or from the publishers
A MURKY SIDE OF THE COLD WAR
AND THE LOVE THAT DEFIED IT
The Lebensborn Spy (Vanadis Texts, 2017. www.vanadis.org). is a gripping novel about a side of the Cold War that few people know about, involving the chain of homes known as the Lebensborn (Wellspring of Life), created by the Nazi SS for unwanted children of German soldiers and women of the occupied countries during World War II. The story is set in a Europe divided by the Cold War, in which the East German intelligence service, the Stasi, is using former Lebensborn inmates for its own sinister purposes. In the ruthless battle of ideologies, love, integrity and courage struggle to win against formidable odds. For those who can read between the lines the story has a deeper message. See also the special website http://www.lebensbornspy.net and my video on the book: www.youtube.com/watch?v=20vMAhby9Cc

Readers' reactions
"An excellent Cold War thriller packed with both period detail and believable characters. A first-class story that I hated to finish." (Amazon reader)
"McIntosh is an excellent writer in terms of readability and flow. His fact-inspired fiction provides plentiful plot twists in a page-turning succession of surprises and suspenseful episodes …" (Amazon reader).
"This is a story of loss and gain, of people struggling with the ruins of war and their desires, ambitions and longing for a good life … This book is engaging, surprising and a thoroughly good read." (Goodreads reader).
For more information and a video about the book, see www.lebensbornspy.net
FROM OZ TO AGARTHA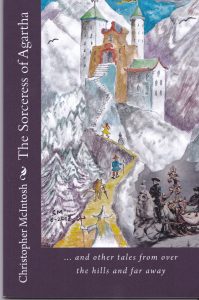 The Sorceress of Agartha (Vanadis Texts, 2017) is a story collection from the borderland between myth and reality. Here you will meet the characters from The Wizard of Oz and King Ludwig II of Bavaria in unexpected places, the caretaker of a London college who is not what he seems, and a Rosicrucian brother in possession of an object with properties so startling that he suspects it of being a creation of the Devil.
85 pages.
ENTER THE WORLD OF
THE STARLIT GROVE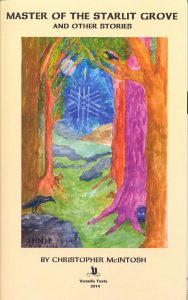 The stories in Master of the Starlit Grove (Vanadis Texts, 2014.https://www.vandis.org) tell of a world where the old gods are returning, where maenads dance, where wild imaginings become real, where the sinister mingles with the absurd. Let these tales take you there. They will leave you perceiving reality in a new light.
119 pages.
Readers' reactions
"This is a rare gem of modern literature … by a master storyteller." (Amazon reader)
"In the tradition of authors like M. R. James, Russell Kirk, Lord Dunsany and Charles Williams, each story is a crafted gem from a timeless England, and from a world where the fantastic and the esoteric is never far away." (Prof. Arthur Versluis, Michigan State University)
"I actually found myself holding my breath when catching glimpses of the gods about their work in these wonderful stories, with the mutual bonds highlighted." (Fiona Baker in Pagan Dawn)
"ELEMENTALS, MY DEAR WATSON"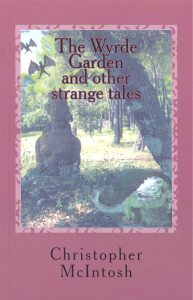 In The Wyrde Garden (Vanadis Texts, 2015. https://www.vanadis.org) the title story of this collection, Sherlock Holmes and Dr Watson brave the terrors of an English garden full of demonic entities and discover who is behind it . . . and it's not Professor Moriarty. In the other stories in this volume a fly changes the course of history by landing on the nose of an assassin, the Nordic gods eavesdrop on Sigmund Freud in a Vienna café, a man becomes a shaman because of a scorpion bite, and the god Loki causes havoc at a United Nations reception.
106 pages.
Readers' reactions
"It is rare to find writing of this quality in this age . . . promises an afternoon of amusement and delight." (Amazon reader)
"An outstanding mix of traditional storytelling and careful, eclectic research." (Amazon reader)
AN OCCULT NOVEL OF INITIATION
Return of t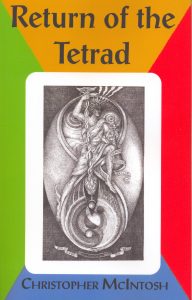 he Tetrad (Mandrake of Oxford, 2013), hailed as a classic of occult fiction, is the account of a spiritual quest, cast in the form of an esoteric adventure story. Early in the story the narrator, Paul Cairns, chances upon a work by Eliphas Lévi in an Oxford bookshop. His interest in the esoteric awakened, he hears about a former magical group called the Order of the Sanctum Regnum and a man called Gilbert North, who had once been a leading member of it but now lives the life of a scholar and country squire at his stately home, Ravenhurst in Hertfordshire. Later, after leaving Oxford and settling down to married life and a career as a journalist, Paul is troubled by a recurring nightmare and, through the bookseller Arthur Jenkins, is put in touch with Gilbert North, whom he consults about the dream. He becomes a regular visitor at Ravenhurst, and is led by North on an extraordinary series of adventures involving a quest for the Tetrad, four primal magical objects corresponding to the elements and the suits of the Tarot. Cairns' life becomes full of weird and supernatural happenings in a great magical battle between dark and light. But in the world of Gilbert North things are not quite what they seem. Layers of reality and unreality are peeled away until the deeper meaning of the quest is revealed. See video:
https://www.youtube.com/watch?v=KByMVVJjQpM
246 pages.
Readers' reactions
"Christopher McIntosh's `Return of the Tetrad` is that rarest of commodities, an intelligent, vivid, well-written and, above all, authentic occult thriller that grips like a man-trap and provides an ending at once surprising and ultimately satisfying." (Herbie Brennan, writer)

"Better than Dennis Wheatley or Dion Fortune, this story romps through England's occult sites in between breaks for tea and cakes
and numerous meetings over dinner in various classic settings. I fully expect this work to become a BBC series in the future." (Amazon reader)

"A thoroughly enjoyable and challenging read." (Amazon reader)

"The Return of the Tetrad is a delightful read, a sort of Harry Potter for adults. But it is philosophically much more adventurous, especially given the plot twist(s) at the end that both question and in some ways reaffirm the very foundations of the fantasy genre. What is particularly moving about the book is the evocation of the England of the `sixties and `seventies behind the garish façade of swinging London and Carnaby Street. The details of the novel, its cups of tea, Victorian architecture, eccentric human types, damp gardens and odd bookshops have a quiet but unmistakable beauty . . ." (Prof. Frederick Turner, poet, novelist and scholar of literature)

"I enjoyed reading Return of the Tetrad immensely. The book's romantic sense of detail and richness nicely sets the scene for examining belief in magical realms and the question of the truth of occult powers . . . I am forever honored that Christopher has utilized my Tarot drawing of the Magus to grace the cover of his book." (Leigh J. McCloskey, artist, writer and actor)